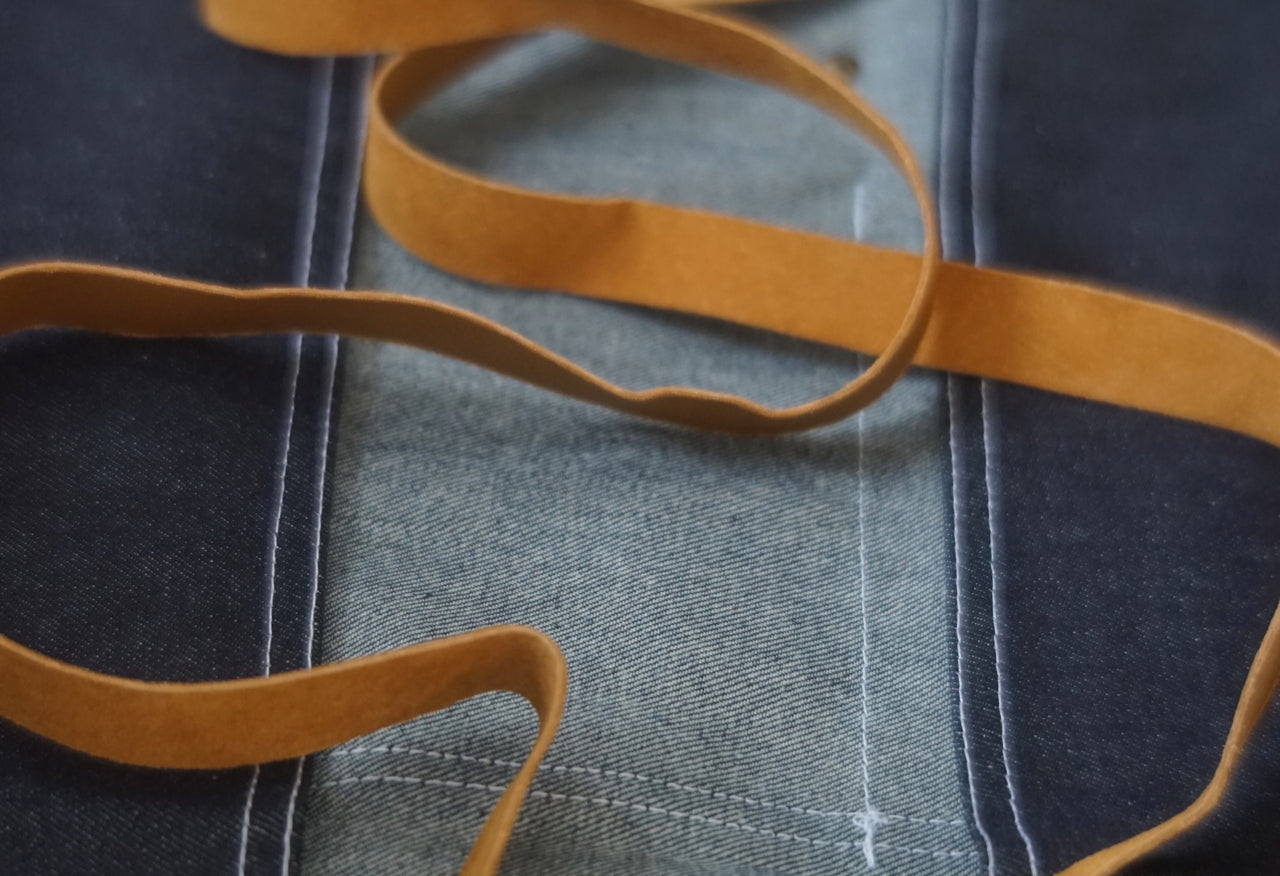 $99.99
Denim Tool Belt Package
Receive 10 complimentary zinc hairpin plant labels with this package
Denim tool belt - This tool belt is constructed of heavy duty denim, 80% cotton and 20% poly that is top stitched with white cotton/poly thread. The trim and ties are soft pigskin and the brads are metal.  The tool belt is designed to be worn at the waist or higher to protect clothing and give a place to store tools.  The tool belt measures 35"x 18" with the ties each being 35" in length.  There are 4 pockets and 4 leather loops in which to store garden tools. This tool belt was fashioned after Japanese designs. Machine washing is discouraged, but it can be wiped with a damp cloth and stored in a dry place.  It should last for years.
Wooden Dibber - When planting small seedlings or seeds it is important that you plant them at the right depth.  This ash wood dibber has a printed scale (with metric and imperial graduations) that is a great help. The dibber is 10 1/2" long and has a pigskin leather hanging handle. 
Needle Nose Pruners - The needle nose pruners are specifically designed for picking fruit, cutting stems, gathering vegetables and picking flowers. The long nose of the pruners is especially good for reaching into narrow places. The handles are ash wood  and the metal is high quality carbon steel. The overall length is 8 1/2".  To keep the tool in good condition please clean after use and store in a dry place. 
Mini Bypass Pruners - These small pruners are constructed from high quality carbon steel.  Their best quality is that they are so easy to use, making it easy for the gardener to reach into tiny spaces and clip tiny stems or flowers without bothering surrounding vegetation.  They are spring loaded with a bottom catch for safety and they are only 5 1/2" long by 1 1/2" wide.  These tiny pruners are easy to use and fit the smallest of hands. 
Plant labels - These biodegradable plant labels can be individually inscribed with a waterproof pen and therefore help to organize the seedbed or small  plants once they are put into the ground.  They are 5 3/4" x 3/4" in size and there are 40 in the pack.  
 *Sorry, but we are unable to customize products at this time.